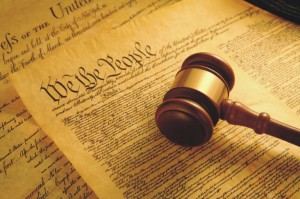 The New Jersey Appellate Division has held that it is the perception of a worker's belonging to a protected class (not that the worker is actually a member of a protected class) that triggers standing to bring a Law Against Discrimination (LAD) claim, as held in a published decision Cowher v. Carson & Roberts, A-4014-10.
In Cowher v. Carson & Roberts, the Court held that a worker can pursue his bias suit against his former employer and its supervisors for directing anti-Semitic slurs toward him, even though they incorrectly thought he was Jewish.
The Court explained that if a plaintiff "can demonstrate that the discrimination that he claims to have experienced would not have occurred but for the perception that he was Jewish, his claim is covered" by the Law Against Discrimination.
Plaintiff, Myron Cowher, a former truck driver for Carson & Roberts, claims that Defendants, Jay Unangst and Nick Gingerelli, employees of Carson & Roberts, wrongly perceived Plaintiff to be Jewish and directed anti-Semitic comments at him on a daily basis from January or February 2007 to May 2008, thereby creating a hostile work environment in violation of N.J.S.A. 10:5-12a.  Cowher is not Jewish but traces the origin of the comments to his request, in December 2006, to obtain leave from work to attend a bris.
During the period relevant to his complaint of anti-Semitic harassment, Cowher was directly supervised by Unangst, the company's Logistics Manager, and, when Unangst was unavailable, by Gingerelli, the company's Service Equipment Manager.  Unangst and Gingerelli, whom Unangst described as "bookends, partners," shared an office in a building on the premises that was operated as a shop.
Cowher produced DVDs that contained video-recordings of Unangst's and Gingerelli's outlandishly anti-Semitic and racist slurs and comments in the Plaintiff's presence.  (The explicit comments are contained within the Court's decision; link below).
Cowher testified at his deposition that hateful remarks occurred on a daily basis and were made in front of people coming to service the company's equipment and delivery persons.  Cowher also testified that both Unangst and Gingerelli believed that he was Jewish, and because of their comments, several other employees did as well.
In his deposition, given after the DVDs had been produced, Unangst admitted that they contained an accurate depiction of what occurred.  He also admitted that he used the Hebrew folk song Hava Nagila as the ring tone for calls on his cell phone from Cowher.  When the deposition of Gingerelli was taken, he admitted that he had called the Plaintiff anti-Semitic slurs, testifying that he "couldn't put a number" on the times he had done so, stating further, "20 times, I don't know to be exact."  Plaintiff testified that he told both men to stop the comments, but that they had not done so.
The Appellate Division explained that New Jersey requires that a Jewish plaintiff alleging an anti-Semitic hostile work environment in violation of the LAD "must demonstrate that the defendant's 'conduct (1) would not have occurred but for the employee's [Judaism]; and [the conduct] was (2) severe or pervasive enough to make a (3) reasonable [Jew] believe that (4) the conditions of employment are altered and the working environment is hostile or abusive.'"  Taylor v. Metzger, 152 N.J.490, 498 (1998) (quoting Lehmann v. Toys 'R' Us, 132 N.J. 587, 603-04 (1993)).
The Defendants argued that Cowher could not meet the first prong of the Lehmann test because he was not Jewish, and that the allegation that he was perceived to be Jewish was insufficient.  The Appellate Court disagreed.
The Court pointed out that precedent exists in New Jersey for finding that a plaintiff has standing to bring a Law Against Discrimination claim when a plaintiff is perceived to be a member of a protected class and not necessarily an actual member of said protected class.
The Court cited to the New Jersey Supreme Court ruling in Andersen v. Exxon Co., 89 N.J. 483 (1982), that Exxon had discriminated against plaintiff Andersen when it declined to hire him as a truck driver on the mistaken ground that a physical handicap arising from spinal fusion surgery disabled him from meeting the job's performance requirements.  In Andersen, the Supreme Court held that, in the absence of competent medical evidence, Exxon did not reasonably arrive at the conclusion that Andersen's handicap precluded his performance of the job.  The Court held in that regard that "[u]ndifferentiated fear and generalities will not suffice."  Id. at 497.
The Cowher Court also cited to a Law Division decision in Poff v. Caro, 228 N.J. Super. 370 (Law Div. 1987), a case in which a landlord declined to rent an apartment to three gay men as the result of his fear that they would contract AIDS.  In Poff, the Law Division Judge, Judge Humphreys, found that if the landlord's refusal to rent was based on the proposed tenants' perceived handicap it constituted a violation of the LAD.  Id. at 374.  The judge observed, in language that is relevant here:
The complainants here do not have AIDS and therefore do not have a "handicap."  However, discrimination based on a perception of a handicap is within the protection of the Law Against Discrimination.  Distinguishing between actual handicaps and perceived handicaps makes no sense. For example, in the case of racial and religious discrimination, the Law Against Discrimination cannot reasonably be read to prohibit a landlord from refusing to rent to a member of a racial or religious minority, but to allow a landlord to refuse to rent to a person who is only perceived by the landlord to be such a member. . . . "Prejudice in the sense of a judgment or opinion formed before the facts are known is the fountainhead of discrimination engulfing medical disabilities which prove on examination to be. . . non-existent."  See Andersen v. Exxon, 89 N.J. at 495.
Id. at 377-78.
The Cowher Court held, "if [P]laintiff can demonstrate that the discrimination that he claims to have experienced would not have occurred but for the perception that he was Jewish, his claim is covered by the LAD."  Id. at 13.  Additionally, the Court held that the record demonstrated that, "the individual [D]efendants, all of whom were [P]laintiff's supervisors, were motivated by their belief that [P]laintiff was Jewish, and thus engaged in"real discrimination and harassment" of the kind that the LAD seeks to eliminate. Ibid. That their target happened not to be Jewish should not serve to excuse their conduct."  Id. at 19.
See full opinion below: