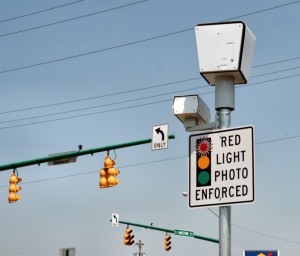 New Jersey is currently investigating its red-light camera program over concerns motorists are not being given enough time to get through intersections and whether towns are performing required inspections on the camera systems.  Tickets will not be issued at those certain locations until it is determined whether the traffic systems are in compliance with the law.
On June 29, 2012, a class action lawsuit was filed against Cherry Hill Township, Spector v. Cherry Hill Township, seeking refunds of $1.48 million in fines based on claims that Cherry Hill's failure to follow state regulations led to yellow lights that were too short in duration, causing inaccurate data.
Plaintiffs David Specter of Voorhees and Henry Anderson of Marlton each paid $85 fines after being issued summonses. They allege unjust enrichment and violations of 42 U.S.C. 1983 and the New Jersey Civil Rights Act.  The plaintiffs allege that Cherry Hill did not follow the strictures set by the Legislature when it authorized a five-year pilot program in 2008.
The statute, N.J.S.A. 39:4-8.14(a), requires conducting a study of traffic volume and average speeds at each location and plugging that data into a statutory formula to compute the length of the traffic signal's yellow light.  The required traffic study determines the average speed at which 85 percent of motorists approach the intersection. That number is used to determine the length of the yellow light, for example, with 35 mph requiring a 4-second yellow, 45 mph requiring a 5-second yellow, and 55 mph requiring a 6-second yellow.
In addition, the pilot program that brought the cameras to New Jersey requires municipal engineers to inspect the devices every six months to certify systems are functioning properly.  Failure to submit the required information in a timely manner — within 45 days of the end of the six-month period — is grounds for the state DOT to revoke the cameras.  The DOT ordered the affected municipalities to meet those requirements by Aug. 1.
Officials from the state Department of Transportation said 63 of the 85 red-light cameras in New Jersey, in 21 New Jersey municipalities – including Cherry Hill, have not been tested to ensure yellow lights were timed in accordance with the statute that created the pilot program.
Erin Patterson Gill, Cherry Hill Township's deputy solicitor and director of policy, planning and programs, says she is "confident that it has satisfied all DOT requirements."
Legislation has been introduced to pull the plug on the pilot program and bar future use of red-light cameras. A Senate bill, S-1952, sponsored by Sens. Michael Doherty, R-Warren and Jennifer Beck, R-Monmouth, was introduced in May 17 and is in the Senate Transportation Committee. An identical Assembly bill, A-2996, sponsored on June 7 by Declan O'Scanlan, D-Monmouth, is in the Assembly Transportation, Public Works and Independent Authorities Committee.
For a full list of New Jersey red-light intersections:
http://media.nj.com/ledgerupdates_impact/other/AffectedRLRintersections.pdf
If you have receive a traffic ticket or have been in a car accident, you need experienced legal representation. Stern Law will effectively defend your legal rights. Contact Stern Law today for a free consultation at 856-685-7600.
Sources: