Unfortunately, accidents happen.  Obtaining critical documentation immediately following a car accident can save you a lot of time of money in the long run.  Free smartphone applications now exist to help you do so.
Some of the features of such applications include access and directions to emergency help and roadside service, the ability to call for local help from the app and an accident report form.
Consumer Reports recently took a look at two popular ones available, both free:  Help I Crashed My Car for Android users and Car Accident Report for the iPhone.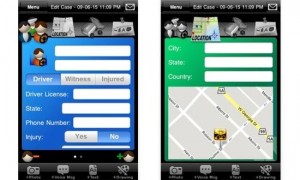 Car Accident Report (iPhone)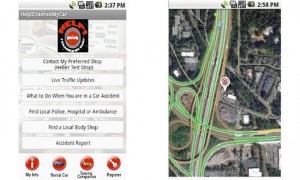 Help I Crashed My Car (Android)
Positive reviews:
Both apps allow you to pre-load emergency contact info, personal data, and vehicle information including make, model, and insurance information so it is at the ready when you need it. Both also track your location using GPS and include complete checklists of what to do and in what order after a crash. They include an accident report screen you can fill out with details, with fields for information about other vehicles and drivers.
One cool feature with Car Accident Report is integration with your iPhone camera, which allows you to take photos of the scene and send them along with notes, diagrams, and recorded audio interviews via email. Help I Crashed My Car  includes useful links to rental car companies and area auto body shops.
Negative reviews:
Help I Crashed My Car may go into too much detail with its checklist for frantic roadside reading, and both apps at times have small type that can be hard on the eyes, especially for an adrenaline-fueled crash victim. Graphics could be improved on with Help, which looks less polished.
If you have been in a car accident, you need experienced legal representation. Stern Law will effectively defend your legal rights. Contact Stern Law today for a free consultation at 856-685-7600.
Source: Consumer Reports