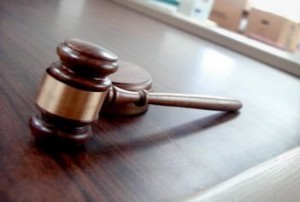 A New Jersey appeals court has ruled, in a split decision, over the circumstances in which police can order passengers out of a car after a traffic stop.
On April 16th, in State v. Bacome, the majority decided that the police must have a reasonable and articulable belief that their safety is in danger if they are going to order passengers to exit a stopped vehicle. Appellate Division Judge Clarkson Fisher Jr. held that the police used a passenger's seat belt violation as a "ruse" to get the passenger out of an SUV and to get him to sign a consent-to-search form.  The Court also held that any drugs seized during the course of the search should have been suppressed as being inadmissible.
It was a 2-1 ruling,and Appellate Division Judge William Nugent dissented, saying that since it was the passenger and not the driver that committed the offense, it was reasonable for him to be ordered to get out of the car.  Judge Nugent believes that the detectives acted properly.
Tawian Bacome was the driver of an SUV owned by the passenger,  known only as "S.R."  Woodbridge, New Jersey Detectives believed both men were drug users or drug sellers based largely on complaints about the large number of people entering and leaving Bacome's house.  On the date of the incident, the detectives waited for the men to return to Woodbridge home, saw that S.R. was not wearing a seat belt and argued that gave them the authority to make the stop.
At the suppression hearing, Detective Jaremczak testified that Detective Harris saw Bacome lean forward as though he was trying to hide something under the seat. Harris was not present to corroborate that testimony, but the judge relied on that when he upheld the warrantless search, the opinion said.
Detective Jaremczak testified during the suppression hearing that they ordered both Bacome and S.R. out of the SUV. Jaremczak testified that, as they exited, they saw a rolled-up piece of paper in the shape of a straw and a Chore Boy Brillo pad, often used as a filter for a crack pipe, inside the SUV. After S.R. signed the consent-to-search form, they found 13 vials of crack hidden in a cigarette packet, according to the opinion.
Judge Fisher said the NJ state Supreme Court has differed from the U.S. Supreme Court over the issue of whether the police can order passengers to exit a vehicle during a traffic stop.  In 1977, the U.S. Supreme Court, in Pennsylvania v. Mimms, first ruled that drivers could be ordered to exit.  The court expanded on its ruling 20 years later in Maryland v. Wilson to say passengers could be ordered out as well.
The New Jersey Supreme Court, however, refused to go that far, Judge Fisher said, and, in State v. Smith, the court ruled in 1994 that the police must point to "specific and articulable facts" that would justify their belief that there was a heightened sense of danger that warranted ordering the passengers to exit as well.
Judge Fisher said none of that was present here. Rather, he said, the officers were operating under assumptions that the individuals were drug users or dealers or both and acted on their "hunch" that they were engaged in illegal activity.
"If that was the only legitimate basis for the stop in this case—and it was—then S.R. should have been served with a summons and he and defendant permitted to go on their way," Fisher said. "The mere fact that the vehicle's occupants were traveling to and from Newark, or the fact that defendant received many visitors at his residence, did not suggest a danger was posed when the vehicle was stopped for a seat belt violation.
"Certainly, not every driver entering or leaving Newark may be assumed to be a drug user or a drug dealer," he said. "We are not being unduly cynical in concluding what is plainly apparent: the unbuckled seat belt was a ruse for the stop and the officers were interested only in pursuing their hunch—concededly accurate—that the vehicle's occupants were involved in illegal drug activity."
If you need experienced legal representation, Stern Law will effectively defend your legal rights. Contact Stern Law today for a free consultation at 856-685-7600.