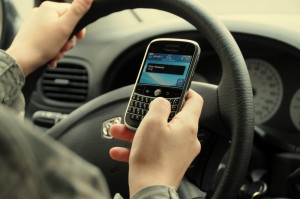 A New Jersey Court has held that texting to a driver does not make one liable to victims of an accident, even if the texter knows the recipient is driving a car at the time of the text.
In Kubert v. Best, MRS-L-1975-10, attorney Stephen "Skippy" Weinstein of Morristown, New Jersey, made a novel, but unsuccessful, argument on behalf of his clients Plaintiffs David and Linda Kubert.  The Kuberts were injured riding on their motorcycle by a texting and distracted motorist, Defendant Kyle Best, who crossed over a double yellow line.  David and Linda each lost a leg in the tragic accident.  Weinstein named Shannon Colonna as a defendant because she was texting to Defendant Best at the time of the accident.
Weinstein argued that because Defendant Best was answering a text from Colonna when the accident occurred, that Colonna was "electronically present" and also responsible for the accident.  Weinstein asked the Morris County Trial Court to allow a claim against someone not physically present at an accident location because Colonna knew or should have known that Best was driving when she sent the text.  Weinstein argued that the Trial Court should extend the established claim of civil aiding and abetting to a new set of factual circumstances by applying traditional tort concepts like foreseeability and proximate cause.
Colonna's lawyer, Joseph McGlone, Esq., argued that New Jersey has not recognized "a duty not to send an electronic message to a person who is driving a car" and that it would be unfair and unworkable to impose a duty on texters because they have no control over when, where or how recipients will read and respond to their messages.
Morris County Superior Court Judge David Rand disagreed with Weinstein and dismissed the Plaintiffs' claims against Shannon Colonna.  Plaintiffs' claims against Defendant Best will proceed.
Judge Rand explained that if he was to extend liability in this case that it could create a slippery slope where any form of distraction could potentially serve as the basis for a liability case.  Judge Rand discussed GPS devices, billboards and even push notifications from news and other websites as similar distractions that drivers must avoid on their own.
Judge Rand discussed the matter of Durkee v. Jett, 09-cv-449, a Western District of North Carolina Federal Court case where the District Judge threw out a products liability claim brought by four people injured when a tractor-trailer hit a car, allegedly because the driver was distracted by a text from the dispatcher.  The suit claimed that the tractor-trailer communications system itself was, at least in part, responsible for the happening of that accident because it allowed the receipt of texts while the vehicle was in motion.  Judge Rand held that Durkee, which is on appeal, was not controlling but was nevertheless instructive.
If you have been in a car accident, you need experienced legal representation. Stern Law will effectively defend your legal rights. Contact Stern Law today for a free consultation at 856-685-7600.