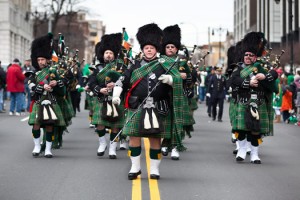 Municipalities across New Jersey will be celebrating St. Patrick's Day with parades and parties all weekend long.  Whether or not you're taking part in the festivities, if you're drinking this weekend, keep these common-sense tips in mind:
Know your limit. Not everyone responds to alcohol the same way.

Drink plenty of water. This will help lessen the severity of hangovers.

Eat something! Alcohol on an empty stomach is never a good idea.

Have a designated driver.
If you are traveling to a parade or party, be sure to do so safely – remember, not only can drinking and driving get you arrested, it can also end in injury or even death. The Division of Highway Traffic Safety offers these suggestions:
Use mass transit, a cab or car service to get to and from your destination.

Immediately report drunk drivers to law enforcement.

Never let a friend drive drunk. If you know someone is about to drive while impaired, 

take his or her keys and arrange for a ride home.

Buckle-up, every ride.
If you take public transportation this weekend, note that NJ Transit is adding extra service on Saturday, March 16, for the New York parade, but passengers will not be allowed to transport alcoholic beverages on trains to/from New York and Hoboken.  Beverages of all kind are never permitted on NJ Transit buses.
Remember that drinking and driving is not the only thing you can get arrested for when you go overboard on green beer.  Some of the most common charges seen around St. Patty's day include:
Assault

Resisting Arrest

Disorderly Conduct

Possession/Consumption of Alcoholic Beverage by a Minor

Driving While Intoxicated ("DWI")

Open Container (varies by municipality)

Public Intoxication (varies by municipality)
And if you are charged with an offense, remember that the most important thing you can do is ask to speak to a lawyer.  Stern Law will effectively defend your legal rights. Contact Stern Law today for a confidential consultation at 856-685-7600.