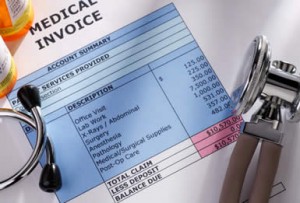 The New Jersey Law Division issued a notable, but unpublished, decision on PIP coverage and the Limitation on Lawsuit option in the case of Schaefer v. Vannucci, 23-3-9285 (N.J. Law Div. March 8, 2013).
PIP coverage—Personal Injury Protection insurance—is part of New Jersey's no-fault motor vehicle insurance system, and is the primary source of coverage for the medical bills of people injured in motor vehicle collisions. New Jersey requires motorists to carry PIP as part of their motor vehicle insurance policy.
The rules for determining whose PIP policy will cover your medical bills are simple in theory.
PIP coverage is afforded to New Jersey motorists regardless of who is at fault for a motor vehicle collision.  Even if a driver of another vehicle is at fault, and even if that driver has much better insurance than you do, coverage for your medical bills will be paid by your own insurance policy. If you are personally uninsured, but you live with a family member who is insured (called a resident relative), you can be covered by that policy—even if the "named insured" person on that policy of insurance was not involved in the accident. Finally, if you are uninsured and no family members that you live with (resident relatives) are insured, the other driver's insurance will cover your bills. If no one is insured, other aspects of the New Jersey no-fault system come into play.
The first test for determining PIP insurance coverage is to determine whether a person is a "named insured" under a specific policy; then, if not, whether a person is a "resident relative" of someone who is a "named insured" under a policy of automobile insurance.
N.J.S.A. 39:6A-4.2 states that injured parties may receive PIP coverage under only one insurance policy.
The rules for determining whose PIP policy will cover medical bills can sometimes be quite complex. This is because there are numerous situations that do not neatly fit into the rules outlined above. Even after decades of litigation, courts play an important role in interpreting the rules for PIP coverage. Just as important, the specific and particular language of each insurance policy play a crucial role in determining who, and under what circumstances, will qualify for coverage.
Just as important as PIP coverage, and perhaps more so, are the rules for determining an injured person's right to sue. This is called the Limitation on Lawsuit option—an option New Jersey residents are offered when purchasing insurance that saves motorists a little money on their insurance in exchange for significantly limiting right to recover for their injuries from at-fault drivers. Often, insurance companies and insurance agents abjectly fail to properly advise New Jersey residents of the true legal ramifications of selecting the Limitation on Lawsuit option.  Stern Law recommends rejecting this option and maintaining the No Limitation on Lawsuit option.  Anyone who advises New Jersey residents otherwise is intentionally attempting to limit their civil rights.  If you have any questions about this issue please contact Stern Law for a full legal explanation of how the Limitation on Lawsuit option is a creature of the insurance industry designed to prevent people from successfully obtaining fair compensation for their damages.
In Schaefer v. Vannucci, the New Jersey Law Division was faced with a case where an injured motorist was potentially covered by two different policies and the two insurance companies were trying to avoid having to pay.
On March 30, 2009, George J. Schaefer was injured while driving a Jeep owned by his business, Jean's Honey, Inc. George carried insurance on the Jeep through Farm Family Insurance Company ("Farm Family"), which provided PIP coverage and carried the No Limitation on Lawsuit option. However, Jean's Honey, Inc., and not George, was the only entity listed/named on the Farm Family policy. The Jeep was registered to Jean's Honey's address in Flemington, New Jersey, which is also the home of George's elderly parents. George claimed that he lived at that address with his parents, and showed evidence to the court that he used that same address to receive mail, file taxes, register to vote, and apply for a driver's license.
George is married. However, he showed evidence that his wife, Heidi, owned and lived at a different Flemington address than the one he claimed to reside at. Heidi carried insurance with New Jersey Manufacturer's Insurance Company ("NJM"), but George was not listed as a named insured, resident relative, or in any other way, on the NJM policy. Heidi's NJM policy had the dreaded Limitation on Lawsuit option.
Under N.J.S.A. 39:6A-8.1, the policy under which an individual is the "named insured" is the policy that will provide PIP coverage to an injured person. It is also the policy that determines whether the person will be bound by a Limitation on Lawsuit. Thus, the primary issue before the court was whether George was a "named insured" under the Farm Family or the NJM policy.
George argued that he was a named insured—in fact, the only named insured—under the Farm Family policy. He was the sole owner of Jean's Honey, Inc. The business itself could not be injured in a motor vehicle accident, only people involved in the business. Thus, while he was not actually named on the policy, for the purposes of PIP coverage he was obviously the person intended to be covered under the policy.
Farm Family, desirous of relieving itself of the responsibility for providing George with coverage, argued that Jean's Honey, Inc., was the only named insured on the policy, and that "a corporation cannot have any immediate family members," Schaefer v. Vannucci, pg. 3. Farm Family also claimed that George was, for the purpose of PIP law, entitled to benefits under his wife's NJM policy. Because an injured party is entitled to coverage under only one insurance policy, Family Farm would be off the hook.  Stop for a second.  Think about Farm Family's arguments.  They collected premiums for a policy of insurance that, because only a corporate entity was named on the policy, that they would argue they would never have to pay out on claims for medical benefits because they claim to only insure a corporate entity and not any human beings.  If that is not bad faith and fraudulent conduct, I don't know what is.
In its analysis, the Court agreed with George that a corporation itself could not be covered by PIP insurance. Looking to the language of the Farm Family policy, the Court paid special attention to a clause reading: "If the covered 'auto' is owned by a farm family co-partnership or corporation, the term 'named insured' also includes the head of the household of each family designated in the policy as having a working interest in the farm." Schaefer v. Vannucci, pg. 5. The Court noted that "neither of the policies in dispute define 'household,'" but that as the sole owner of Jean's Honey, George was the only person with a "working interest" in the corporation. Id. Thus, under the terms of the Farm Family policy, George was a named insured.
Having made this decision, the Court waded further into the particulars of the various arguments of the parties, eventually concluding that George was entitled to PIP coverage under the Farm Family policy.
The Court then turned to the question of the Limitation of Lawsuit issue: "N.J.S.A. 39:6A-8.1(d) provides that an injured named insured entitled to coverage under more than one insurance policy with different tort options may elect which tort option will apply." Schaefer v. Vannucci, pg. 6. Thus, the Court reasoned, because George was definitely covered by the Farm Family Policy, which had the No Limitation on Lawsuit option, it didn't really matter whether he was also potentially covered by the NJM policy, which had a Limitation on Lawsuit—he was allowed to choose which option to take, and he chose the Farm Family option.
Although the Court had already determined that George was covered by Farm Family for PIP, and could choose the No Limitation of Lawsuit option under that policy, it did go on to resolve a slightly messy dispute between Farm Family and NJM, both of which had paid a portion of PIP benefits for George's injuries. In sum, the Court ruled in favor of NJM, thoroughly and finally determining that Farm Family would be required to provide coverage to George.
Read the full decision here. 
If you have been injured in a motor vehicle accident, you need legal representation to make sure that your medical bills are paid so that you can receive the treatment you need to make a recovery. Stern Law LLC specializes in injuries from motor vehicle collisions and all aspects of the New Jersey PIP system. Contact Stern Law today for a confidential consultation at 856-685-7600.
About the Author: Brian Klitsch received his J.D. from George Washington University Law School and is currently a Legal Intern at Stern Law, LLC. He is barred in the State of New Jersey.